Code of Conduct 
Cameras
As this Summit will have many participants, we kindly ask that your camera is turned off during the panel presentations to ensure our panelists are front and center!
Microphones
For plenary discussions, we kindly ask that you remain on mute to limit distractions and background noise for our panelists. If you would like to speak during a plenary session, please raise your virtual hand by selecting the hand icon at the top of the meeting screen. Clicking the same icon a second time will lower your hand.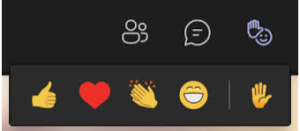 Breakout Room Participation
During the Breakout sessions, participants are strongly encouraged to turn their cameras and microphones on, and engage in rich, meaningful discussions. One volunteer from each Breakout session will be asked to give a quick Report Back following the discussions, so we encourage you to fully engage in these discussions, to come to the best possible outcomes and recommendations.
Non-attribution
The Justice Summit maintains the principles of non-partisanship, non-attribution, and respect for organizational and statutory independence. Therefore, participant contributions will not be attributed to specific individuals or organizations. Moreover, while the 2022 Justice Summit will be convened through a virtual format, the recording of any sessions by participants is strictly prohibited.
We are grateful that members of the judiciary, including the heads of our three courts, are again joining the Justice Summit.  We appreciate their participation.  We trust, consistent with previous Justice Summits, that everyone will respect that because of the courts' independent role, the judges and judicial staff are participating as observers and will not be commenting on, endorsing or suggesting policy choices, recommendations or other substantive matters. ​​​​​​​