Code of Conduct 

Cameras
As this Summit will have many participants, we kindly ask that your camera is turned off during the panel presentations to ensure our panelists are front and center! Feel free to turn your camera on during plenary discussions and in breakout rooms.
Microphones
For plenary discussions, we kindly ask that you remain on mute to limit distractions and background noise for our panelists. If you would like to speak during a plenary session, please raise your virtual hand by selecting the hand icon at the top of the meeting screen. Clicking the same icon a second time will lower your hand.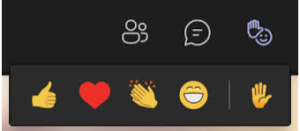 Breakout Room Participation
During the Breakout sessions, participants are strongly encouraged to turn their cameras and microphones on, and engage in rich, meaningful discussions.
Non-attribution
The Justice Summit maintains the principles of non-partisanship, non-attribution, and respect for organizational and statutory independence. Therefore, participant contributions will not be attributed to specific individuals or organizations. Moreover, while the 2023 Justice Summit will be convened through a virtual format, the recording of any sessions by participants is strictly prohibited.
We are grateful for the participation of members of the judiciary in the Justice Summits. We trust, consistent with previous years, that everyone will respect that because of the courts' independent role, judges and judicial staff participate as observers and will not be commenting on, endorsing or suggesting policy choices, recommendations or other substantive matters.
Summit Meeting Best Practices 
Speakers List: If you would like to ask a question during the designated Q&A or take the floor during the closing Plenary session, please raise your hand by selecting the hand icon at the top of the meeting screen. After you have spoken, please lower your hand by clicking the hand icon a second time.   
 Mind the mute button: Your microphone should always be muted unless you are speaking. This reduces the risk of your movements or background noises causing a distraction or interruption during the meetings.  
 Do not multitask: If you use a computer (recommended), close all other apps and browser tabs. If using a cellphone, do not send text messages or make phone calls at the same time.  
 Use of Video: Participants are strongly encouraged to go on video during the breakout sessions to enhance the engagement experience. During the Plenary sessions, however, we request that participants do not use video to ensure that our lead facilitator and the presenters/panelists appear on the main screen.